Shhh. Listen. Did you hear that?
Yes, it was the sound of librarians everywhere shouting hooray while reading about Daliyah Marie Arana. This amazing young book worm visited the Library of Congress, met with the newest Librarian of Congress Carla Hayden and was Guest Librarian for the day, a most prestigious title, especially when bestowed upon an impeccably dressed 4 year old! Daliyah's special afternoon was in celebration of a big reading accomplishment that her family celebrated with their local public library.
When Daliyah was 3, her mom enrolled her in her public library's 1000 Books Before Kindergarten program in Georgia. This program encourages families to read 1000 books before the first day of kindergarten and when her family completed this most impressive feat, her mother contacted the Library of Congress to share the sweet accomplishment and request a tour for her young reader. Cue the collective sighs of joy.
Awwwwwwwwwwwwwwwwww!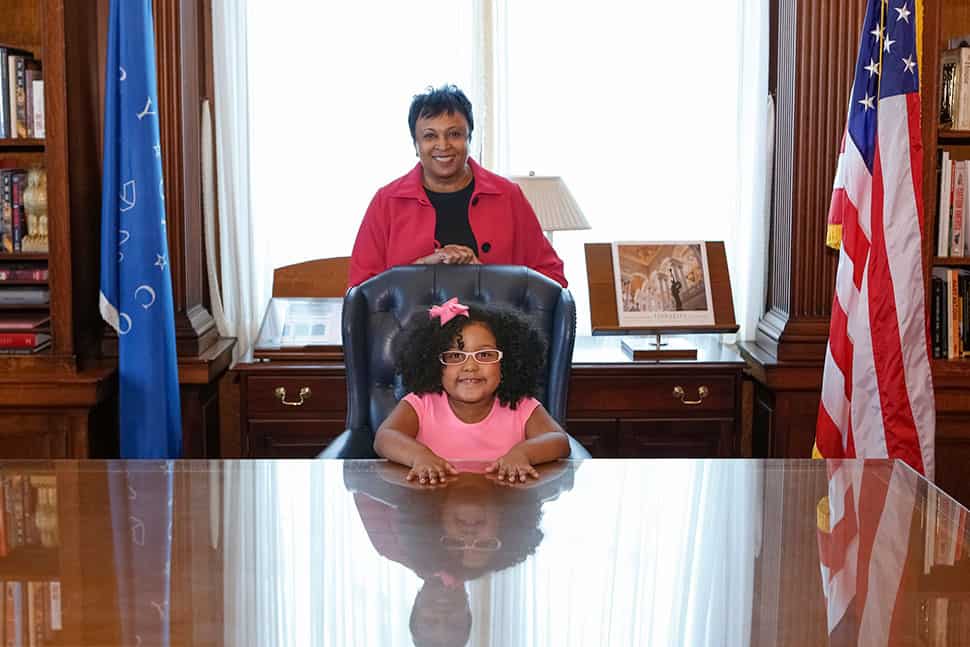 Source: americanlibrariesmagazine.org
Adorable? Yes
Impressive? Oh yes!
Doable? Totally!
Now, I know that 1000 books seems like a lot but think about it, how many times have you read that one book? You know the one. That one with the bunny, or the truck or...heaven forbid, Caillou? You probably read that book 10 times just yesterday! When we run the hypothetical numbers, if a parent read just one book, one time each day to their child every day since the day they were born until the day they turned five, that would be 365 books for 5 years, 1825 books!
So Many Books, So Much Time!
This means we all get wiggle room for busy days, or busy years. Even if your baby was colicky and you just walked around the house rocking her for the first three months and didn't get a chance to pick up Moo Baa La La for a while, you have probably already read a TON of books together. Or maybe when your daughter was 2, she decided that sitting was just the worst thing ever so your bedtime snuggle with a book became a wrestling match with a toothbrush, it's okay, because I can bet on bowl of mush that you have read, Goodnight Moon about a million times. Or maybe it was a Pigeon book or maybe one of those floppy paperbacks that has way too many words but your daughter is so smart that she knows exactly what Thomas just said so you can't skip even one line. Sigh.
Where was I? Oh yes,1000 books.
So while librarians everywhere loved and widely shared the heartwarming story of the youngest librarian in our ranks, Ms. Daliyah, we know you can to it too. Oakland Public Library hereby extends the challenge to you and your family today. We may not be able to offer personal tours of the Library of Congress, but our online badges are colorful and our high-fives plentiful!
Sign up today!

Nitty Gritty Details
Oakland Public Library has teamed up with Beanstack to help you reach some amazing reading goals! Just click here and follow the steps. You can create a reading profile for each child in your family and keep everything together in one place. Choose the "1000 books before Kindergarten Reading Program" when registering and you're done! You can also choose to get one email a week with a personalized book recommendation, a link to the library catalog and reading tips based on your child's profile.
Does it really count if I read the same book 5 or more times?
Yep! Repeated reading of the same book is extremely beneficial for pre-readers. It helps develop vocabulary, memory, positive connections with literature, self-confidence and more!
My kiddo is 3, is it too late to join?
No way! Even if your child starts kinder next year, you can still join! You can even go in a enter all of your favorites from back in the day and move on from there.
What if we don't make it to 1000 by the time kindergarten starts? Did we fail?
Nope, you are awesome.
What do we do when it is done?
Keep reading of course! The Beanstack software can come in very handy for those homework reading logs too!